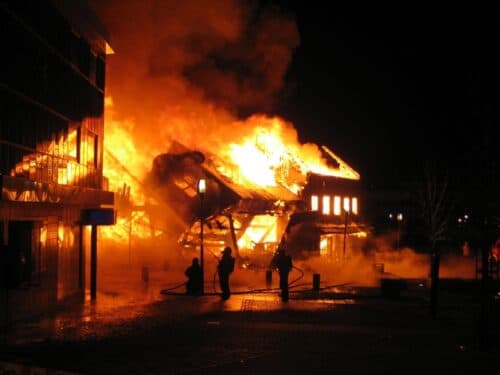 Shamus stared out of his office window. The sun had risen and rays of light sparkled off the windows. It was a cheerfully, wonderful, sunny day… except for the pillar of smoke rising from the police station. The flashing emergency lights reflected strangely off rising ash. He could imagine the wailing sirens and wondered if Pato, his assistant, was okay.
Pato had stopped by the office shortly after Shamus had discovered the ominous, ticking package. Well, according to their emergency protocols, Pato called the police station immediately to report the strange package. The night constable told Pato not to worry and to bring it down to the station. And, knowing Pato, he did just that.
Just then, Shamus' cell phone started quacking, it was Pato. Pato, in a slightly panicked state, explained to Shamus that he presented the package to the police constable, who accepted it readily. When the constable opened the package, he noticed a crystallized bomb device inside … which he dropped in his excitement … and nothing blew-up.
After a flurry of activity, the army was called in to handle the situation. Apparently, only they were brave enough to handle these dangerous, crystallized bombs. The young army officer carefully packed explosives around the bomb and covered the heap with blast curtains. His superior reviewed the preparations and instructions were given to add more charges, in order to teach the department a much needed lesson. The explosion was SPECTACULAR!
Shortly, after the blast, the police chief arrived in tears. The chief had devoted his entire life to building a wonderful station. It was all gone. The destruction caused by a breach of emergency protocols would be felt by the community for a long time. Pato, being Pato, stated the obvious: "It seems like following emergency procedures properly is important."
Well, it was time to leave the office. Shamus put on his jacket and as he smoothed it out, he found a perfumed business card tucked into one of the pockets. It was Elizabeth's business card. He marveled at her maneuver as he remembered their brief pub encounter. He decided to arrange another meeting.
All characters appearing in this work are fictitious. Any resemblance to real persons, living or dead, is purely coincidental.
The blog posts made available by Stasuik are for educational purposes only and not to provide specific tax, accounting, business management or professional advice of any kind. By using this blog site and/or blog posts you understand that no accountant-client relationship is created between you and Stasuik. The blog posts should not be used as a substitute for competent professional advice from a licensed professional in your jurisdiction.